2022 summer new Korean style bow knitted bottoming shirt women's white sweater Western style loose and lazy outer top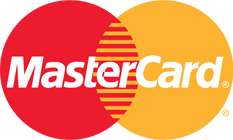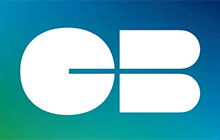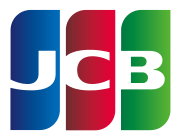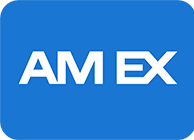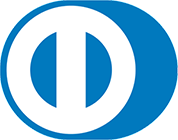 Step 1

Add Store
Click on the link "Add Store"
Coupang is currently supported
After the adding is successful, you will be redirected to the "Imported Order" page.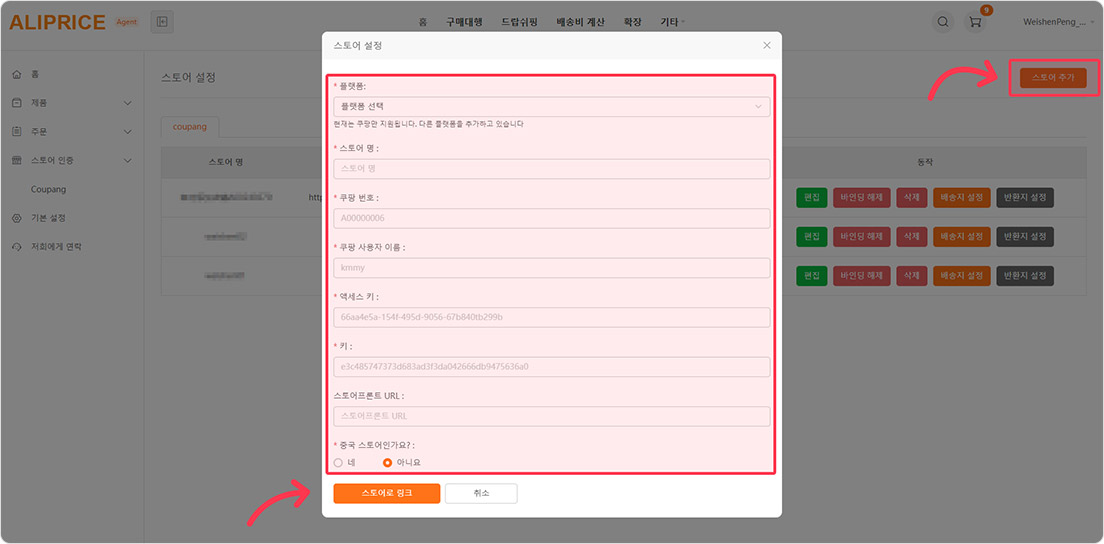 Step 2
List products on your Coupang store
1. Find products on the AliPrice platform, you can browse our popular products or search by keyword(If you want to upload 1688 / Taobao product, please contact us);
2. Click "List It Now" or "Wishlist" on the product details page to import the product to your store;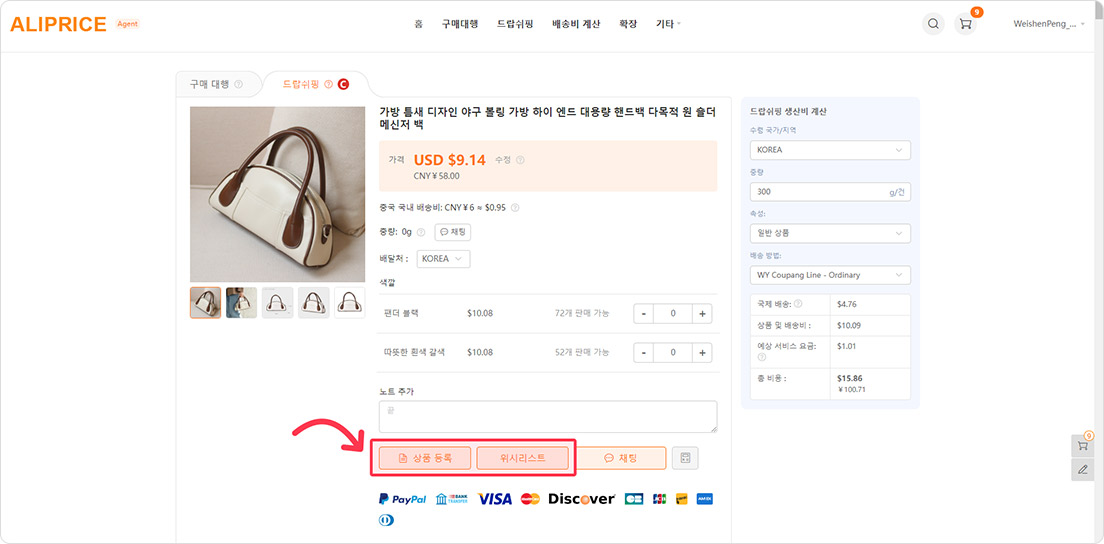 3. Edit the product information before listing, and click "Save" after editing;
Select your "Store" in the list and click "List it to store";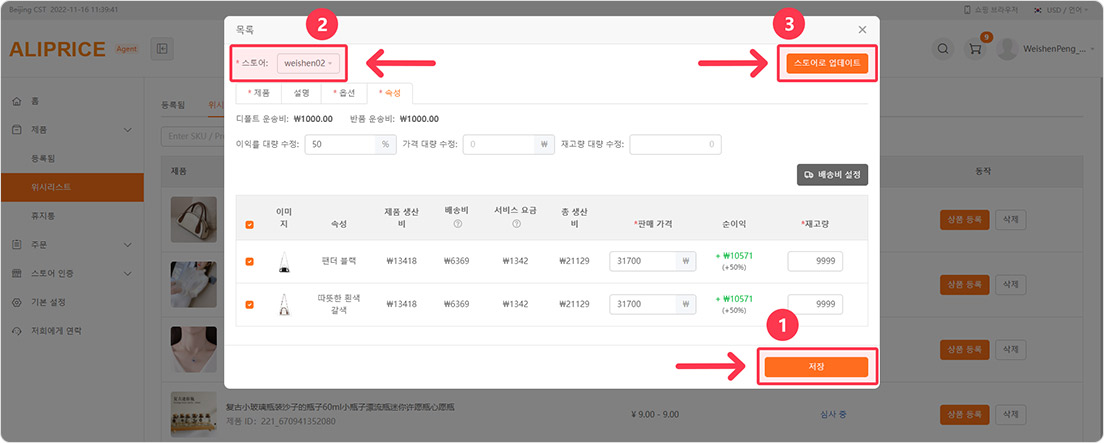 4. Check "Listed" and your Coupang store has successfully listed products;
After the pop-up window shows that the product has been successfully listed, you can click "Go to Coupang store to view" to check the product. In addition, you can also check on the "Listed" list on the AliPrice platform.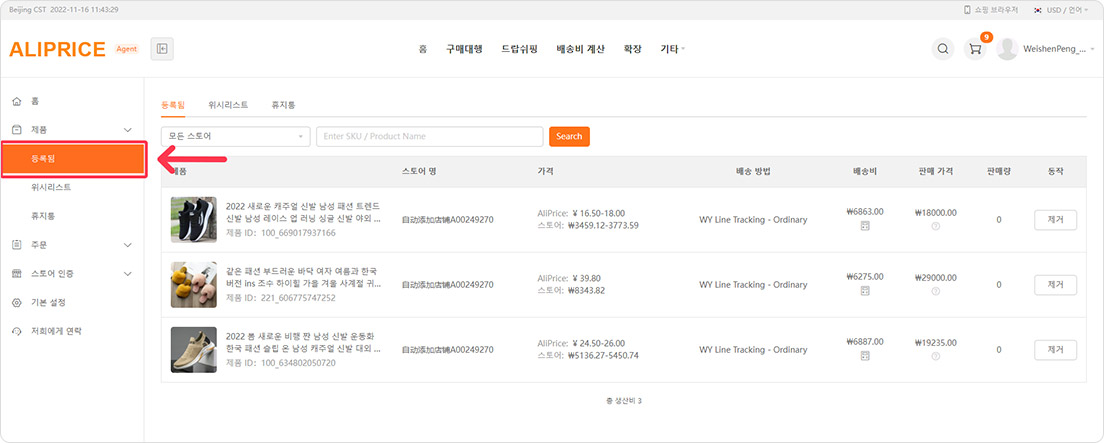 Step 3
Fulfilling Coupang orders
1. After logging into your AliPrice account, navigate to "Orders"on the left column, and click "Imported Orders";
2. You need to click "Download Order" to synchronize the Coupang store order to the AliPrice platform, and select the corresponding store name to import the order;
3. Click "Pending Payment" in the tab and you will see a list of orders that have not yet been fulfilled. ("Unpaid" means that your customer has paid for the order and you have not yet paid for the product on AliPrice platform.) If your customer has not paid or only paid for part of the order, we will not download the order to your AliPrice account;
4. Review the order you would like to fulfill. Change the shipping option and shipping address if necessary. For your convenience, you can set default shipping options;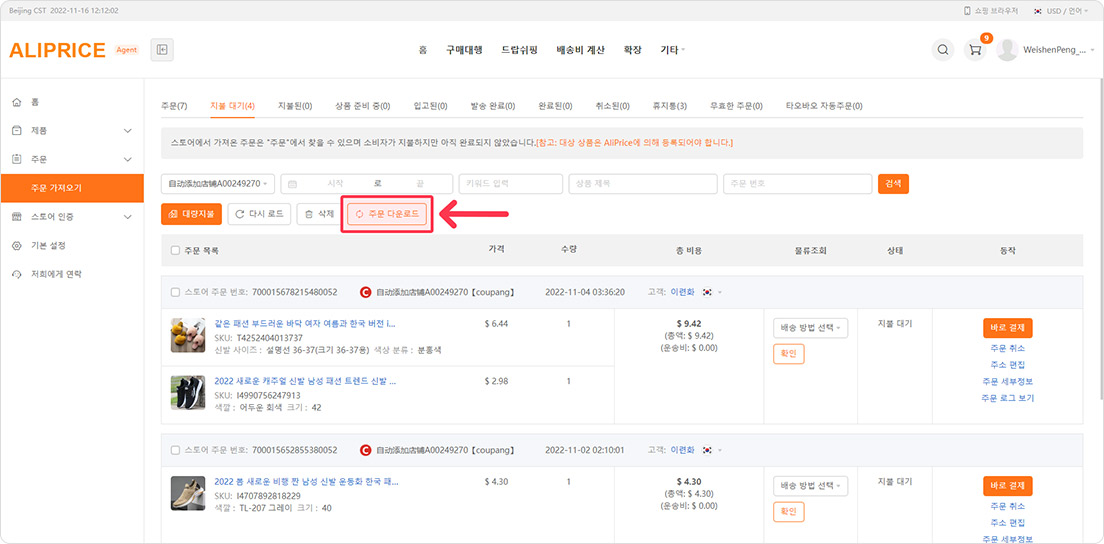 5. After confirming the order, check the required order (you can select all orders on the page), and then click "Batch Payment" or "At-once Payment".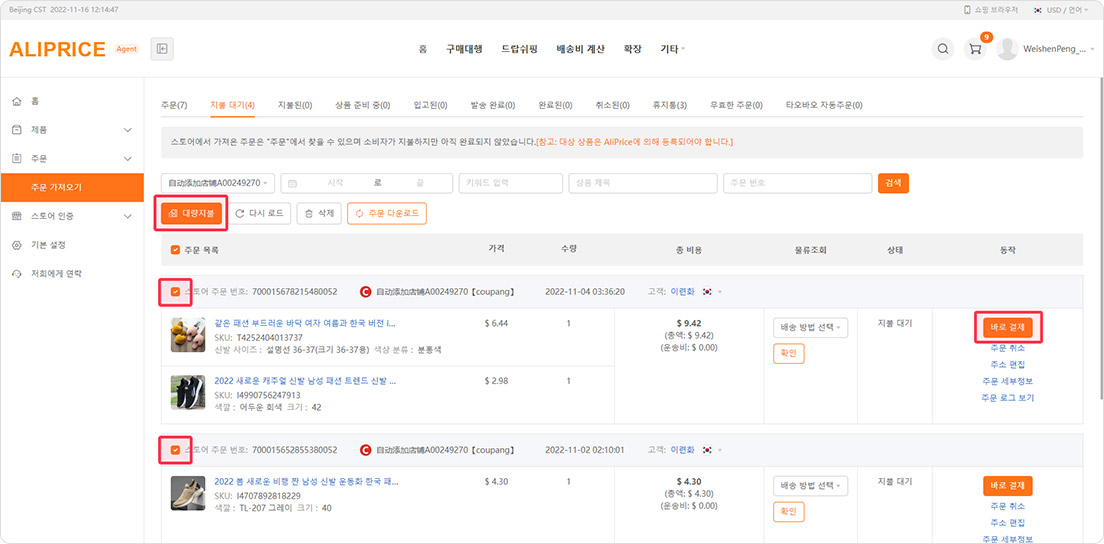 6. You will be redirected to the payment page, follow the instructions to complete the payment;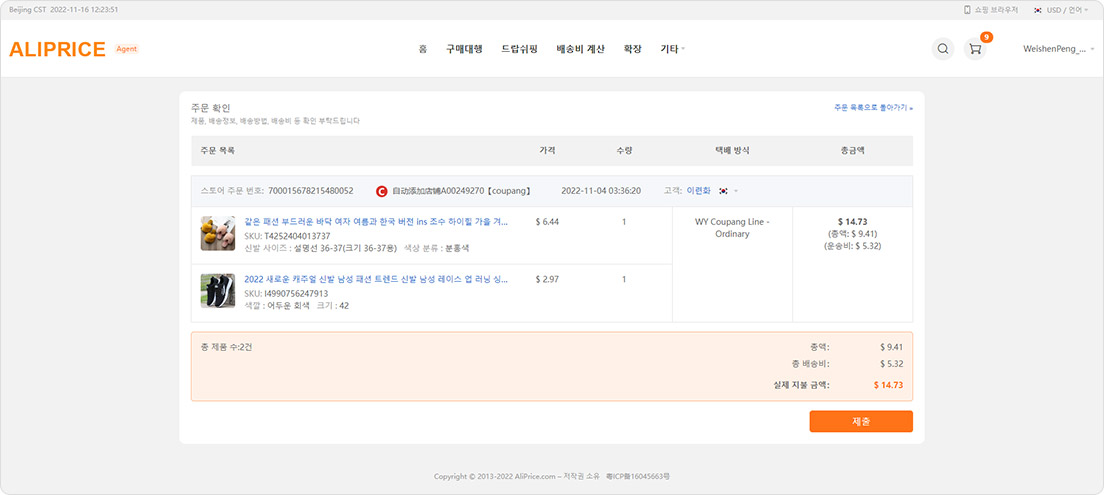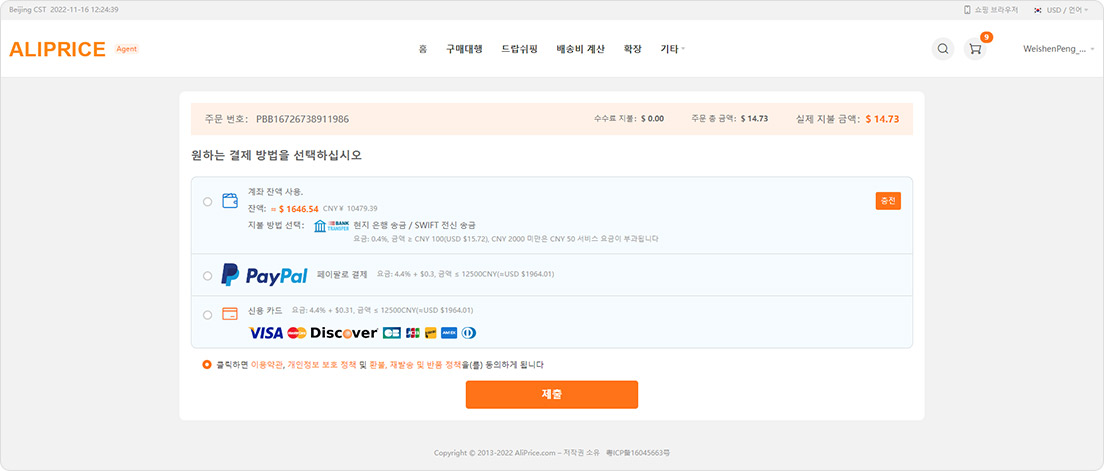 7. After completing the payment, we will process your order immediately. You can check the order update on the order page, usually it takes less than 4 days before delivery;
After shipping, AliPrice will provide a tracking URL, and the order will be prompted with "Dispatched" and "Complete". Order status and tracking number will be synced to your Coupang store at the same time, no need to do anything manually on your part!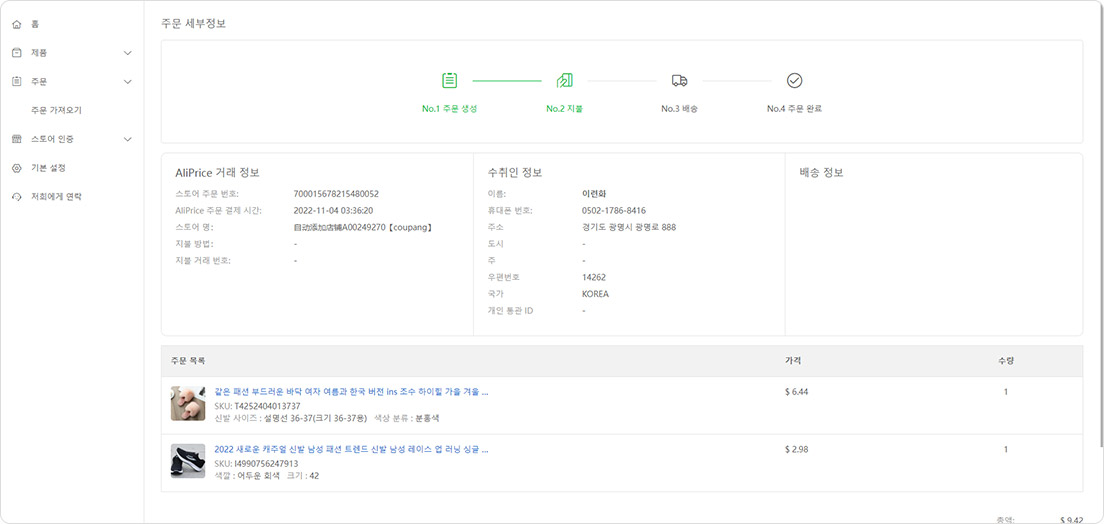 Precautions
1. Since there is a 1‰ probability that the products on 1688 will not support "one drop shipping" or be out of stock, in order to avoid the problem that you cannot sell, AliPrice Dropshipping recommends that you:
(1) Please try to choose a supplier that supports "dropshipping".
(2) You can purchase multiple pieces of this product at the same time and store them in the warehouse of AliPrice Dropshipping. When you have a sales order, AliPrice Dropshipping can arrange the shipment for you immediately.
(3) If you do not accept the method of purchasing more products and storing them in the warehouse, then AliPrice Dropshipping will not be able to help you purchase the "one dropshipping" or out-of-stock 1688 products, please apply for a refund.
Product Parameters:
T*BF19-1220

Guangzhou

other sources

Spot goods

whole order

Yes

knitting

cotton

51%-70%

Viscose

10%-29%

Viscose

10%-29%

OL commute

solid color

fine wool

knitting

Moderate

pullover

one piece set

loose

Ordinary style (50cm<clothing length≤65cm)

V-neck

short sleeve

regular sleeve

bow, other

collage/splicing

Summer 2022

off-white, dark blue

one size

other

other

Yes

Yes

18-24 years old

OL commute

temperamental commute

pullover
A Large Number of Spot Goods
fabric Mercerized Cotton (Good Feel)
length 58 Bust 42 Suitable for 80-135 Jin
2022 Spring and Summer Hot-Selling
suitable for 80-135 Jin
I Can't See Enough Tenderness
Wavy Ribbon Sweater
Beauty and Bone Feeling Online
Whether You Want to Play Some Artistic Fresh, Or Show a Mature Intellectual Charm,
The Neckline Design with Streamers, it Will Meet Your Needs for Matching Suo in the Workplace in the Spring Festival!
Rich Color Collision Design, Fresh and Natural, Very Suitable for Gentle and Elegant You, You Are Beautiful
Don't Fight!
The Twisted Yarn Is Very TE, no Sense of Restraint, Good to Wear Slimming! Real Wear
It Is Stylish and More Valuable at the Same Time. It Is Elastic and Inclusive. It Will Make You Look Slim When Wearing It
Bone Sensation" beautiful!
French Artistic beige tone, Very Young! Can Not Only Express the Sense of Artistic Connotation
It Can Also Set off the Skin, Not Dark at All! Pants Are More Suitable for the Workplace,
Casual and Elegant Trousers Will Also Be Fei Elegant, Belonging to the Middle Class Generation
Watch Wear Match!
Steady and Elegant blue tone Belongs to Many People's Choice, Just Because it Has Black
The Color Makes Me Look Slimmer, and It Is Designed by My Intellectual Person, but Girls Need to Match It
Remember, Spring with Bright Colors Will Make You Look Younger, Playful and Elegant!
Natural and Comfortable Fit Style
Better Matching Effect!
Basic Fit Comfortable Edition Type, Mental Strength, Commuting Skill and Ji Is Obvious
Thin and Slender; This Style Is Also Easy to Wear, the Circumference Should Be Controlled Just Right, Spring and Summer Single
Easy and Comfortable to Wear, Close-Fitting to Ensure High Comfort for Activities, So Knitted Elasticity
Don't Question It! with Slimming Effect, Skin-Friendly and Refreshing ~
Temperament Ribbon Bi Wants to Buy One!
Exquisite Wavy Ribbon, Moderate Width and Length Add More to the Shape
Many Possibilities, can Be Tied into a Bow, Elegant, Romantic and Younger! OK
Simple Streamers Hang down Naturally, Capable and Unrestrained, can Be Used with a Suit for Commuting;
Elegant and Graceful, with an Irresistible Sense of Age Reduction and Softness.
Twisted Yarn Is Very Te
I Know a Lot about Women's Yarn
Knitted Tissue Has a Good Sense of Muscles and Bones. It's Not Soft, It's Very Rare to Wear
It Is Not Only Dry and Breathable, but Also Has Good Ductility, and It Is Easy to Take Care of at Ordinary Times.
Panel Knitting Linking of the Suture Part, Linking Is Tight and Meticulous, Smooth and Neat Lines, Is Required
It Takes Tens of Years of Working Experience in a Large Factory *** to Make Wan Skills, but Manual
Sewing Is More Suitable for People's Curves and Aura than Machine Integration!
Registration failed, please contact customer service.
Main Image
Property Options
Details
Please Confirm
Current Picture Saved