Step 1

Add Store
Click on the link "Add Store"
Coupang is currently supported
After the adding is successful, you will be redirected to the "Imported Order" page.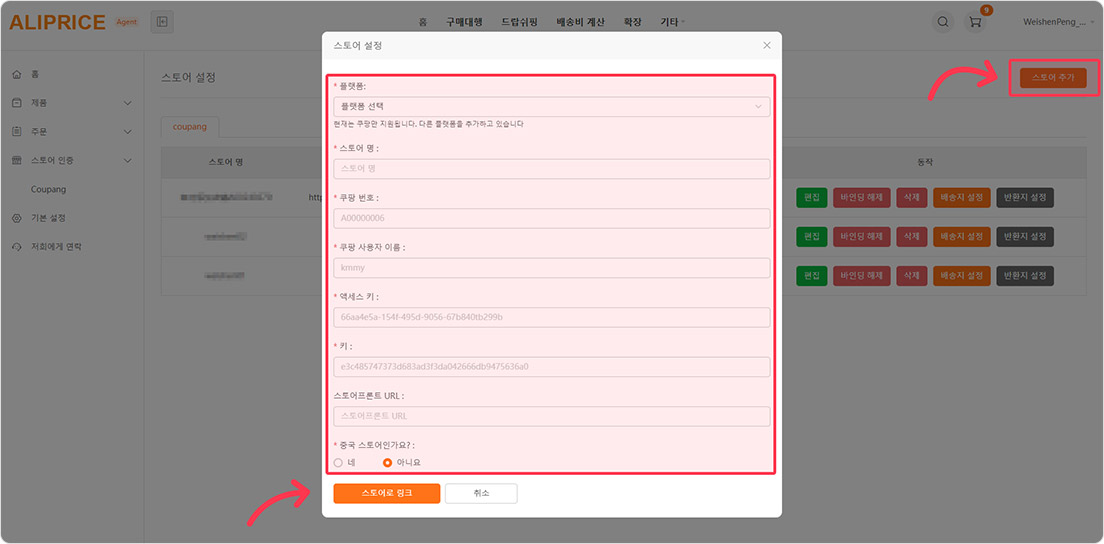 Step 2
List products on your Coupang store
1. Find products on the AliPrice platform, you can browse our popular products or search by keyword(If you want to upload 1688 / Taobao product, please contact us);
2. Click "List It Now" or "Wishlist" on the product details page to import the product to your store;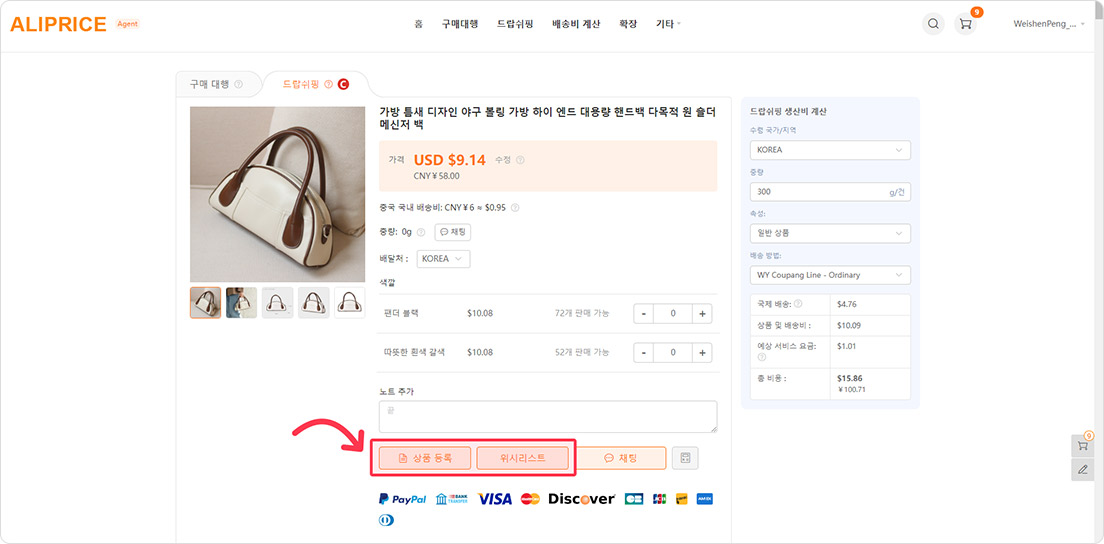 3. Edit the product information before listing, and click "Save" after editing;
Select your "Store" in the list and click "List it to store";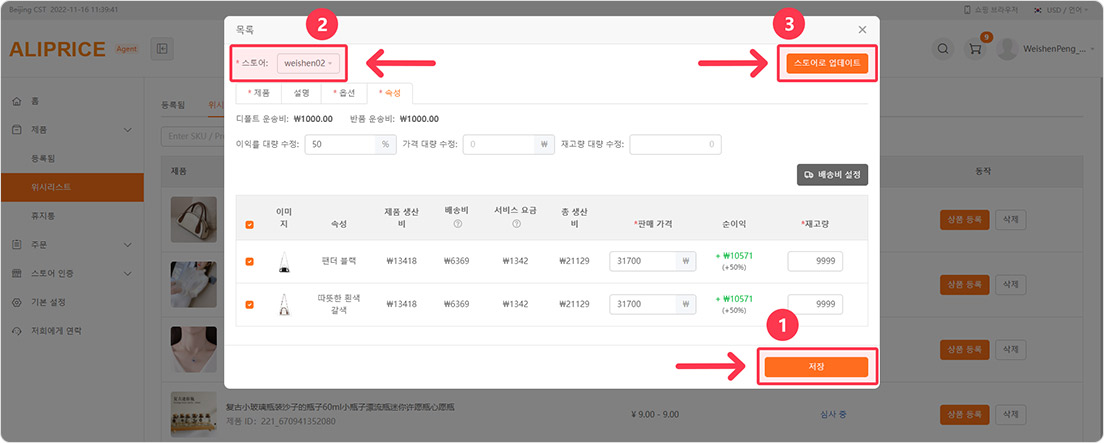 4. Check "Listed" and your Coupang store has successfully listed products;
After the pop-up window shows that the product has been successfully listed, you can click "Go to Coupang store to view" to check the product. In addition, you can also check on the "Listed" list on the AliPrice platform.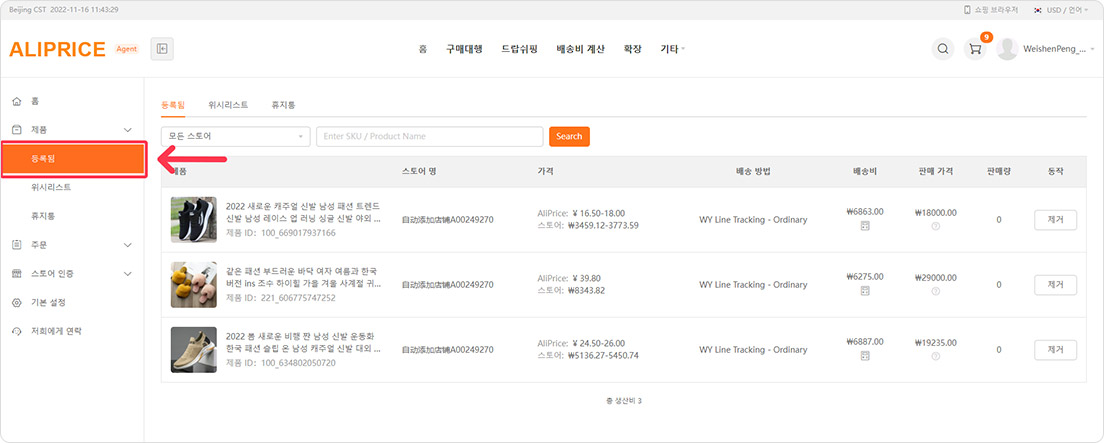 Step 3
Fulfilling Coupang orders
1. After logging into your AliPrice account, navigate to "Orders"on the left column, and click "Imported Orders";
2. You need to click "Download Order" to synchronize the Coupang store order to the AliPrice platform, and select the corresponding store name to import the order;
3. Click "Pending Payment" in the tab and you will see a list of orders that have not yet been fulfilled. ("Unpaid" means that your customer has paid for the order and you have not yet paid for the product on AliPrice platform.) If your customer has not paid or only paid for part of the order, we will not download the order to your AliPrice account;
4. Review the order you would like to fulfill. Change the shipping option and shipping address if necessary. For your convenience, you can set default shipping options;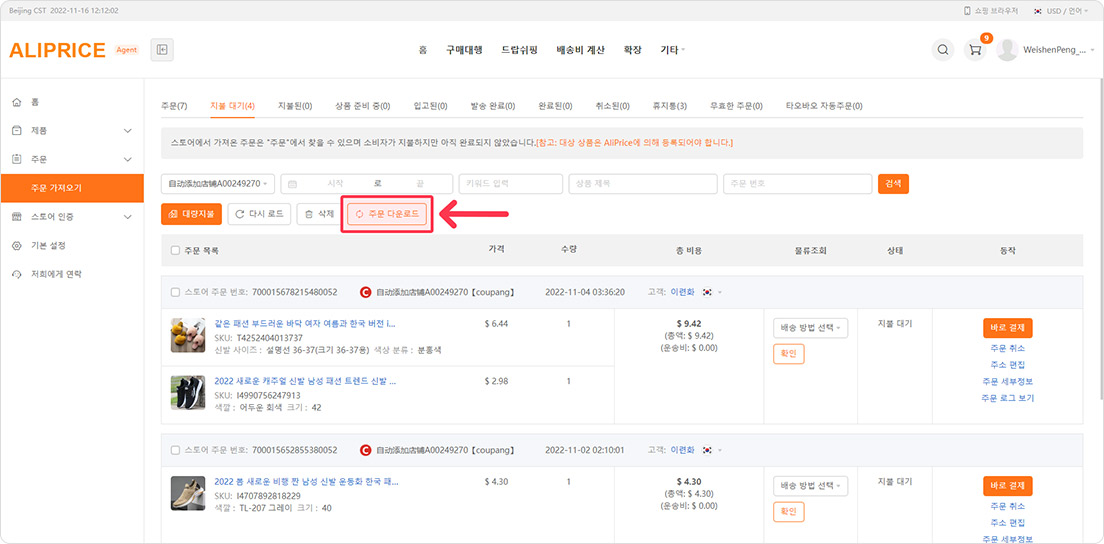 5. After confirming the order, check the required order (you can select all orders on the page), and then click "Batch Payment" or "At-once Payment".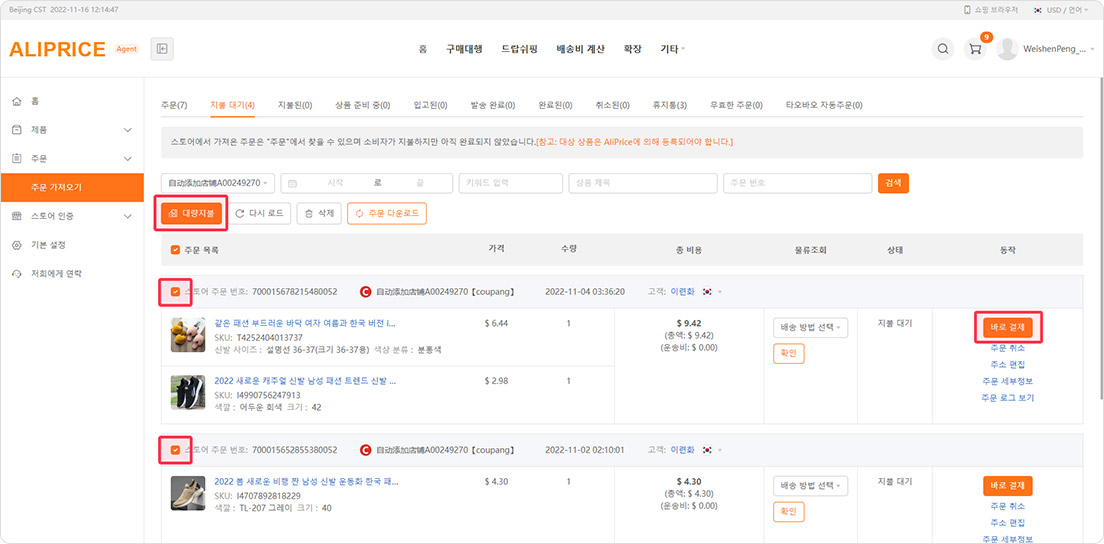 6. You will be redirected to the payment page, follow the instructions to complete the payment;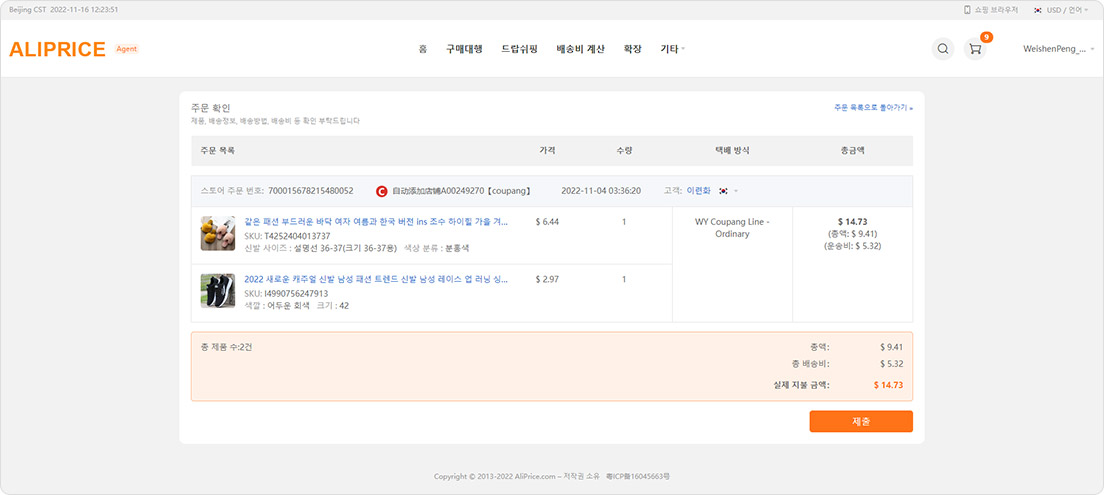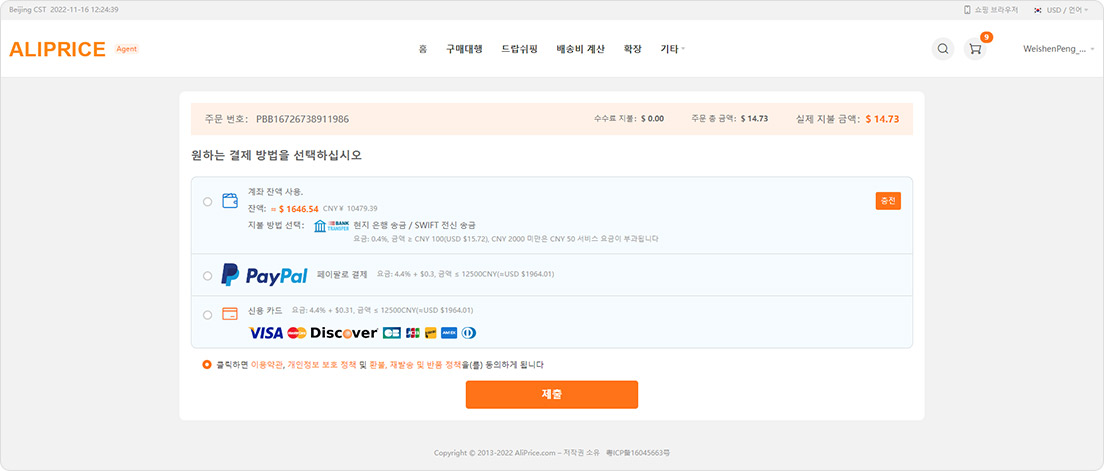 7. After completing the payment, we will process your order immediately. You can check the order update on the order page, usually it takes less than 4 days before delivery;
After shipping, AliPrice will provide a tracking URL, and the order will be prompted with "Dispatched" and "Complete". Order status and tracking number will be synced to your Coupang store at the same time, no need to do anything manually on your part!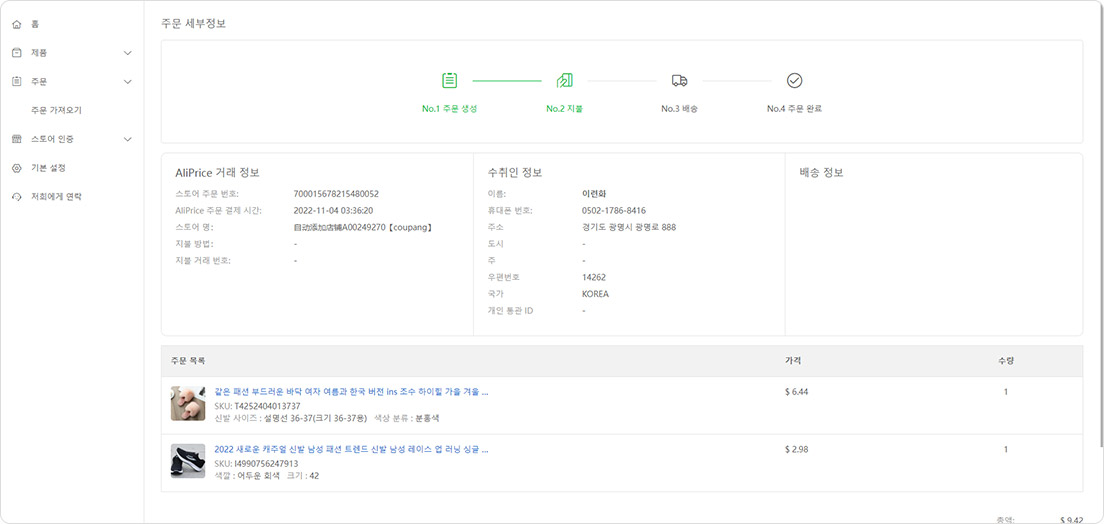 Enye NP58-U Computer Label Receipt Printer Adjustable Width Bar Code Picture Printer with Driver
1. Model: NP58-U;
2. Color: Black;
3. Main Functions: Label Receipt;
4. Other Functions: Bar Code, Picture, Text;
5. Driver Software: Nyearlabel and Nyearbill Drivers;
6. Print Width: 30-57mm;
7. Accessories: One NP58-U Printer, One Cardboard Shaft, USB Cable One, Label One Roll 40x30, Receipt Paper One Roll 57mm,
one Manual;
8. Note: This Model Only Supports Computer Printing, Not Mobile Phones, with Card Shaft.
1. Download Nyearlabel Computer Driver Software and Nyearbill Ticket Driver to Label and Ticket
2. the Printer Is Equipped with 2 Rolls of Free Paper, a Roll of Label and a Roll of Receipt Paper;
3. before Printing the Label, Use Receipt Paper to Make a Test Page for Positioning;
4. Use the Cardboard Shaft When Placing Label Smaller than 57 Sizes;
5. the Computer Opens Nyearlabel Label Driver Software to Edit the Content for Printing.
6. Nyearbill Driver Software Is Required When Printing Small Tickets. There Is a Word Template Editing and Printing in the Software.
Paper Box Stickers

Xi'an Technology Co., Ltd. Was Founded in 2013, Integrating R & D, Production and Sales. the Factory Is Located in Guangzhou Dongguan Wangniu Dun, R & D and Sales Are Located in Xi'an. Main Products: Printer, Scanning Gun and Electric Toothbrush. The Printer Is a Two-in-One Function That Not Only Can Print Labels but Also Can Print Small Tickets, Bar Codes, Pictures, Cable Labels, Price Labels, Jewellery Label, Commodity Price Labels, Etc. It Has Self-Developed Nyearlabel Software, Computers, android iPhone Is Basically Supported. Scanning Gun Includes Wired, Wireless, One-Dimensional Gun and Two-Dimensional Gun. The Product Has Passed EMC, 3C, and FCC Certification. We Keep up with the Trend of the Times. Our Products Are Widely Used and Have Broad Prospects, and Are Sold in Both Domestic and Foreign Markets. Your Satisfaction Is Our Unremitting Pursuit. We Look Forward to Working with You to Negotiate and Seek a Better Tomorrow.
Registration failed, please contact customer service.
Main Image
Property Options
Details
Please Confirm
Current Picture Saved